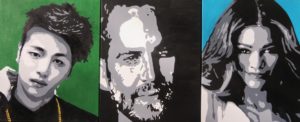 To celebrate the visual arts, Ballajura Community College arts staff take great pleasure in inviting parents, guardians and friends to 'SPECTRUM', our annual visual arts exhibition.
To be held in the Ballajura Community College Art Gallery on Friday October 26 from 5.00 pm through to 7.30 pm, this informal evening will be an opportunity to view the excellent art works created by our students. The selection of visual and performing arts from students in Year 7 to 12 will impress and entertain you.
It will include an art, design and photography exhibition in a gallery setting as well as media film viewings and music performances.
We would be delighted if you are able to attend our opening and support the creative endeavours of your child. All students who have work displayed in the exhibition will also be awarded a 'Certificate of Commendation' and invitation.