Police Rangers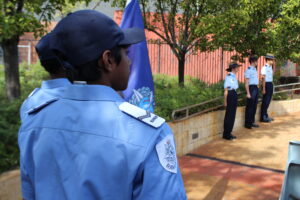 BCC Police Rangers has been operating since 1997 and has won many state awards including Community Service Awards and Ranger of the Year recognition. Last year the unit was awarded several shields at the annual state competition. Membership is open to Years 8 to 12 students from the College.
The unit meets every Monday between 3:15 and 5:00 and participants take part in a range of curriculum activities including, but not limited to;
Leadership

Land Operations

Community Service

Communication

Drill and Ceremony

Safety

Navigation

Policing

Physical skills and training
The unit takes part in several camps and excursions each year and in the past has visited Rottnest, Yanchep, Harvey, Dwellingup, Fremantle and Hillarys. We also do volunteer work with the local community organisations. Students who commit to the program can achieve awards and move through the leadership ranks. A formal Graduation Ceremony is conducted at the end of the year where Rangers are recognised for their achievement of rank competencies and demonstration of leadership. All instructors and students within the unit agree to abide by the Ranger Oath and Code of Conduct by demonstrating respect and service to others.  Students involved in the Ranger program develop and model attitudes, skills and values that have a positive impact on their schooling life and outside social interactions.  Employers continue to look favourably on people who have the leadership skills and teamwork abilities you will develop as a part of BCC Police Rangers.
Most costs are covered by a grant from the state government but parents are asked to contribute some payment towards camps and provide some parts of the uniform.
Enrolment forms for new recruits will be available from GLA1 or can be downloaded from the Student tab on the BCC website.
Once you have completed the application and signed the permission form, place the form in the Police Rangers box in GLA1 then come to the first parade in Term 2 on Monday 2nd May at 3:15 PM in the GYM.
You will be issued with a training uniform and, once you have committed to continuing in the program, you will be issued with a dress uniform.
We have a maximum of 40 places available so if you are interested, please make sure you get your form in early.
Any queries can be directed to Mrs Rao at louise.rao@educationwa.edu.au or via Direct Message on SEQTA.