Police Rangers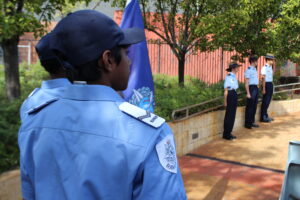 BCC Police Rangers has been operating since 1997 and has won many state awards including Community Service Awards and Ranger of the Year recognition. Membership is open to Years 8 to 12 students from the College.
The unit meets every Monday between 15:15 and 17:30 and participants take part in a range of curriculum including:
Leadership

Community Service

Communication

Drill

Safety

Navigation
The unit takes part in several camps and excursions each year and in the past has visited Rottnest, Harvey, Dwellingup, Fremantle and Hillarys.
The unit is supported by the Department for Communities and our host organisation is the WA Police. Most costs are covered by a grant from the state government but parents are asked to contribute some payment towards camps and provide some parts of the uniform.
Enrolment forms are now available from the office, or can be downloaded using the link below
Once you have completed the application and signed the permission form, place the form in the Police Rangers box in the Main Administration office then come to the next parade.