Returned & Services League (RSL)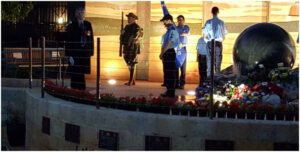 Ballajura Community College prides itself on the collaborative relationships it has established and built upon within its community. A College the size of Ballajura cannot function as an independent entity. The success of Ballajura to date is due to the strong links it has endeavoured to establish with its community, The Ballajura Sub Branch of the RSL is an embodiment of this endeavour.
Ballajura Community College staff and students are committed to the ideals and values enshrined in the ANZAC tradition. There has been an ongoing commitment to commemorating the ANZAC tradition, taking pride in honouring those young men and women who have over time served their country in the armed forces.
The Ballajura Community College recognition and service needs to be regarded at a number of levels; the creation of a permanent memorial, development of student leadership positions as custodians of the War Memorial, the ongoing Wall of Remembrance, the Dawn Anzac Service, the Diggers' breakfast, the Community Anzac ceremony and ongoing sharing of facilities with service, men and women.
As an offshoot of the creation of the College's War memorial a new series of leadership positions have been created for which the students can aspire. The 'Custodians of the War Memorial and Peace Park' are given responsibility in a very formal ceremony prior to ANZAC DAY to look after the memorial and its environs. A specially struck medallion has been created which is presented to each custodian by the Ballajura Sub Branch President in a formal ceremony attended by veterans. Students wear their badges with significant pride and are invited to march with the veterans in a formal march through the community which culminates in the College for the actual ANZAC ceremony.
In 2008 as a forerunner to the ANZAC Service itself many of our students have been able to reap the benefits of these relationships through the variety of associated projects run by the College such as inviting members of our veteran community to share their experiences.  This enables students to gain a more insightful perspective of the important issues associated with the commemoration.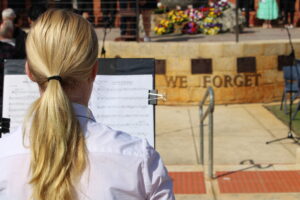 In 2008 as a forerunner to the service year 7 students researched and produced an album to commemorate those traditions associated with ANZAC. Students were asked to research a family member who had served or to adopt a digger. Many used the opportunity provided by the interest in the HMAS Sydney discovery to do research in this field. This album is a permanent record and has been incorporated into the College's extensive memorabilia collection associated with the RSL and Australia at war.
Our association with the Ballajura Sub Branch of the RSL has seen the audience for our College ANZAC Ceremony grow to 2,000 people. The ANZAC ceremony is one of the highlights of the College calendar, with our students being involved in the ceremony, the Ballajura ANZAC march, the ANZAC march in Perth and dawn services at the College and Kings Park