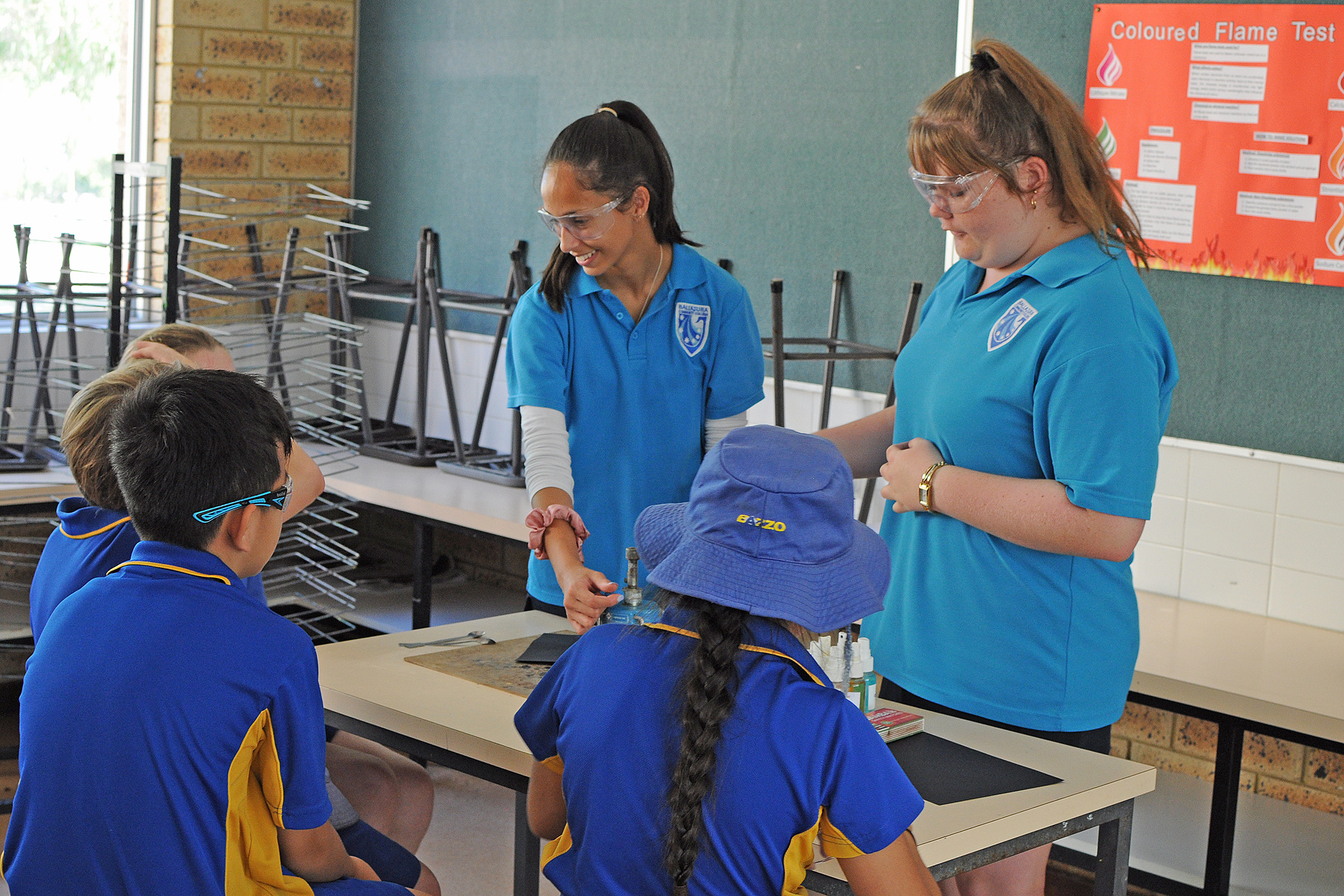 One could wonder who enjoyed the primary school science visits at the end of Term 1 more – the Year 5 and 6 students at the four local intake primary schools, or the Year 9 Ballajura Community College science students who presented their experiments to them!
The visits, to Ballajura, South Ballajura, Alinjarra and Illawarra primary schools were part of an enrichment program designed to inspire an interest in science and technology. It was also part of the Year 9s science assessment – in the working scientifically strand.
Mr Aleksovski, BCC Head of Department, Biological Sciences said two classes of Year 9s were involved, each visiting two primary schools.
"The students were tasked to design simple yet engaging lessons for the Year 5 and 6s to promote the importance of science using practical tasks," he said. "They could choose from a range of fields such as chemistry, physics, biology and earth sciences.
"Before they presented their experiments the Year 9s had to design, plan and test it, and create an informative poster. Every experiment needed a wow factor.
"Most of the experiments were interactive, encouraging participants to 'have a go' at science".
There were 10 stations for the students to visit, including chemi-luminescence, drawing on water, crushing cans, slime, a coloured flame test, dry ice bubble, electrical circuits, film canister rockets, dry gas fountain and the always-spectacular elephant toothpaste.
"It was fun for everybody. There was great interaction between the students," Mr Aleksovski said. "We had some really good presenters amongst the Year 9s, who explained how and why the science worked, and the primary school students absorbed all the knowledge and asked lots of questions."