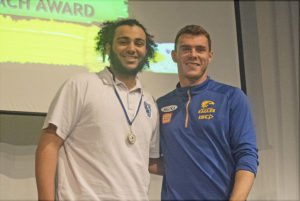 The annual Champions Lunch to celebrate the College's interschool sporting teams for 2018 was held on October 30 with special guest Luke Shuey presenting the awards.
Luke is a Midfielder with the West Coast Eagles, an AFL Premiership player and Norm Smith Medallist so it was a thrill for the students to hear what Luke had to say about the positive impact sport had had on him developing strong relationships in his life and to receive their medals from him.
Well done to all students who were involved in interschool teams in 2018, and congratulations to the following students for their exceptional performances.
| | | |
| --- | --- | --- |
| Sport | Most Valuable Player | REACH Award |
| Volleyball | Sam Goodsell | Multhorn Deng |
| Basketball – junior boys | Jesse Arslanovski | Matty Rammal |
| Basketball – senior boys | Ali Rammal | Ken Chang |
| Basketball – junior girls | Angel Dela Cruz | Amber Wong |
| Soccer – junior boys | Dung Hoang | Zephan Smith |
| Soccer – intermediate boys | Naresh Magesan | Minh Vo |
| Soccer – senior boys | Peresi Iranyunvira | Fidel Baraka |
| Soccer – junior girls | Angel Dela Cruz | Annel Neuenschwander |
| Soccer – senior girls | Angela Duvnjak | Batoul Rahal |
| Futsal U/16 boys | Dodo Sirimuang | Nehad Al-Jabiry |
| Futsal U/19 boys | Davor Pavic | Kian Davis |
| Senior girls netball | Oshyn Toby | Holly Ballam |
| Intermediate girls netball | Hayley Toneman | Ella Daniel |
| Athletics | Jayden Peak | Nicole Rigby |
| Swimming | Adrian Rogers | Jasmine Page |