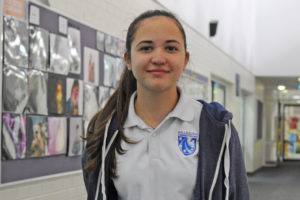 Year 10 Ballajura Community College student Bojana Dedovic has been named a finalist for the Premier's Anzac Student Tour 2019, with a chance to spend Anzac Day 2019 in Vietnam as a Western Australian ambassador.
As part of the selection process Bojana researched and wrote an essay focussing on an individual from WA who hadn't received the recognition for their service she thought they deserved.
Her essay on Letitia Metzke, a nurse who served in the Middle East during World War II impressed the judges and earned her a place in the final.
Bojana said her teacher Mr Dawson told her about the student tour and that chances like that don't come every day.
"I wrote the essay in my own time during the school holidays after I found information about Letitia Metzke," said Bojana. "I admire her because after serving as an army nurse she received a number of awards, and even after she came home to Australia she still found ways to serve."
Bojana will be one of 22 students who will attend an interview early in October, and if chosen, she will spend ANZAC Day 2019 in Hanoi and tour various sites connected with the Vietnam War. She will then share her experiences with the College and the wider community after her return.
The 10 ambassadors for the student tour will be announced on November 11.
Congratulations Bojana on your achievement so far and good luck for the final!