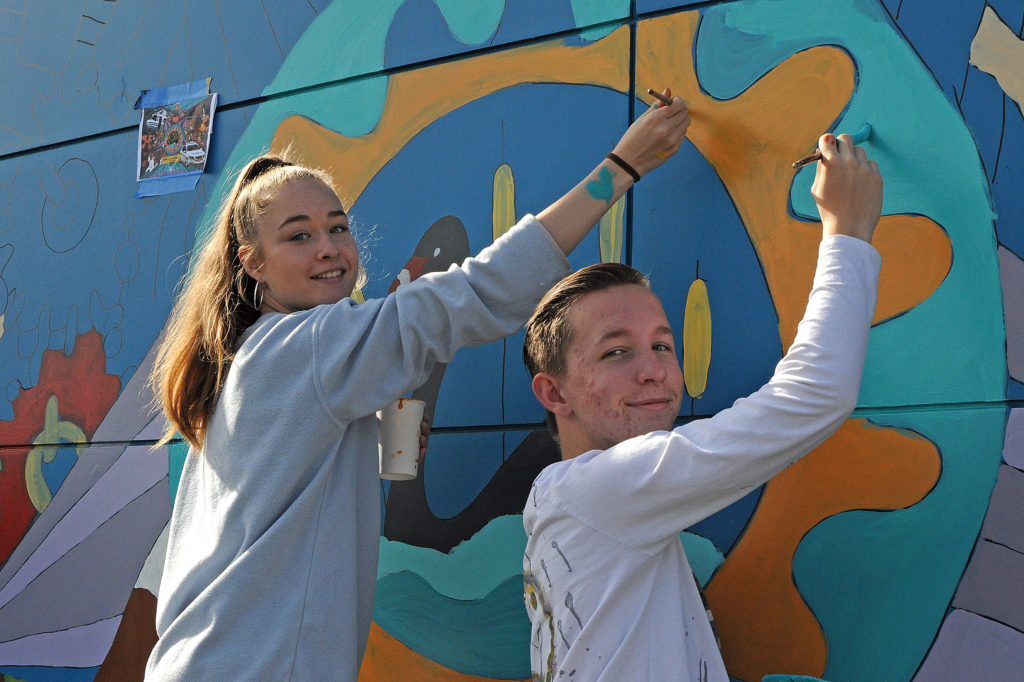 Police officers and staff based at the Ballajura Police station have a colourful new addition to their rear compound thanks to the Ballajura Community College Police Rangers and mural artist, Mel McVee.
The mural covers a wall about four metres high and five metres wide and pays homage to the history and environment of the Ballajura area and its ties within the community.
The top section of the mural can be seen from Ballajura Community College's Senior School carpark and gate just off Cassowary Drive.
Ms McVee said she met with the Police Rangers, who are all students at Ballajura Community College, to talk about the ideas that formed the basis of the mural a few weeks before painting began.
"Together with the Rangers Unit Coordinator Ray Roberts, we decided that there were three general areas the mural needed to show; the police, community and the environment," she said.
"Mr Roberts did a little research on the area and found out that the first person to settle here was a farmer in 1905. He originally came from the Isle of Man where he had a farm called Ballajora.
"The swan, lake and flowering gums represent the environment, and the shape of the rotary symbol is for the community. Police elements include the car, helicopter, horse and beagle. Poppies for the Ballajura Memorial Peace Park complete the design."
After projecting the outline of the design onto the wall, 12 students, ranging in age from 13 to 16, spent the last day of term helping to paint the wall using brightly coloured exterior house paint.
"It was fun working with the Ballajura Police Rangers," said Ms McVee. "They are a great group of young people.
"I hope to expand on this and make it an annual project, and with the help of students from the College paint more of the fences within the Police station compound."